Introduction
The concept of Pricepin originates from the frustration with online shopping: You buy something online to find out that a week later the price has dropped or has a discount. "Never again", we thought and started looking for a scalable online solution for this problem. Receiving real-time update of the price changes over time of every possible product from any webshop.   
Image
Online retailers experiment constantly with their prices. We noticed that one week the price is being raised, just to able to sell it with a discount the week after. But in general almost every product eventually drops in price. However, it takes a lot of time and work to keep track of these changes. This is where Pricepin comes in. With Pricepin you can follow any product from almost any webshop and it will give you updates and notifications when the price drops.  
How does it work?
You can 'pin' prices from almost every webshop with a browser extension or on your smartphone through the share function with the Pricepin app. This way Pricepin will automatically keep track of the price of the pinned product. You will be able to see the progress over time in a graph in your personal wishlist. You will also receive a notification as soon as the price drops. Pricepin is available on your browser, the Apple App Store and Google Play Store.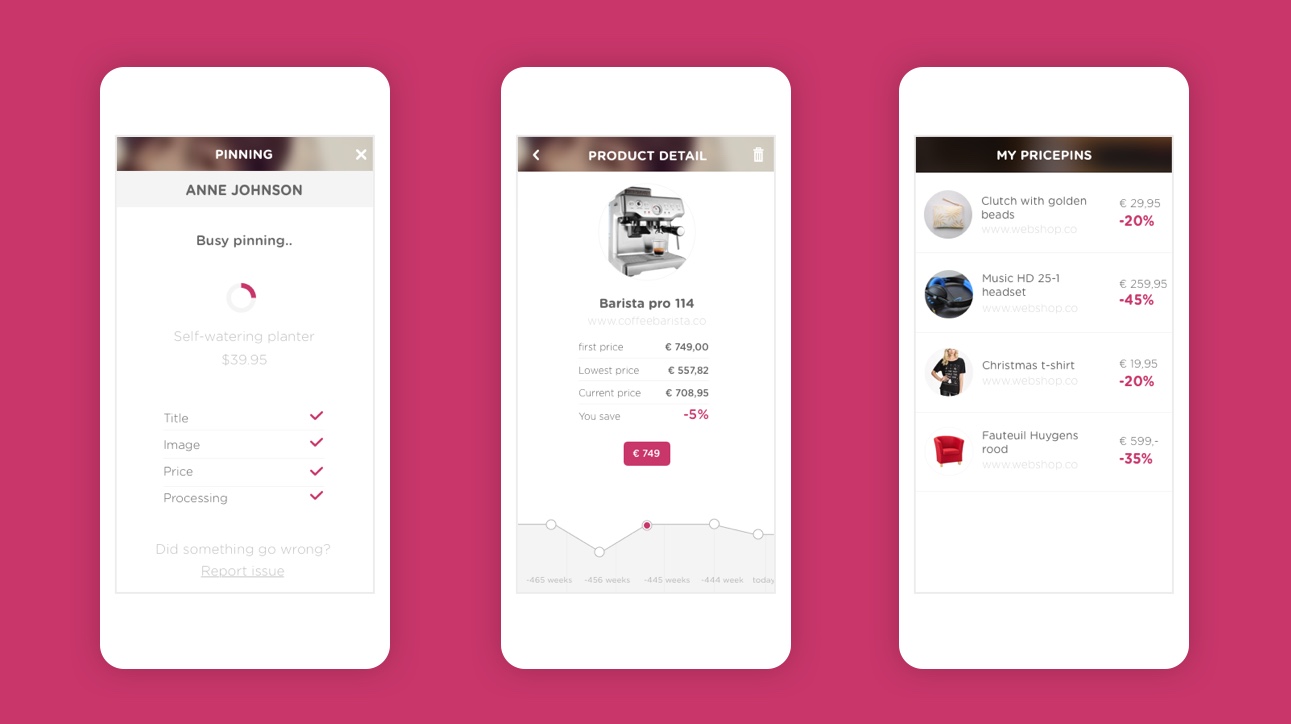 Our approach
Our developers started with developing an algorithm to trace and save prices of the product page. First we tracked about fifty test products of different Dutch webshops and the Bitcoin index.
With this data we performed market research to check whether there is a real need for this product or not. When there appeared to be a serious demand for this product we developed the Pricepin app, available for iPhone and Android.
After the first release the total amount of savings from pinned products was almost 45.000 euro. The average discount on a pinned product was 14,2 percent, but some scored a discount of 70 percent on clothing and electronics.
Create a wishlist, shop smarter, save more
Pricepin
The official release
After testing, a redesign and improving our branding we launched Pricepin at the Uprise Festival in Amsterdam. This really gave Pricepin a boost and it got featured in several articles, like on iCulture, Frankwatching, Product Hunt, Bright and Kassa.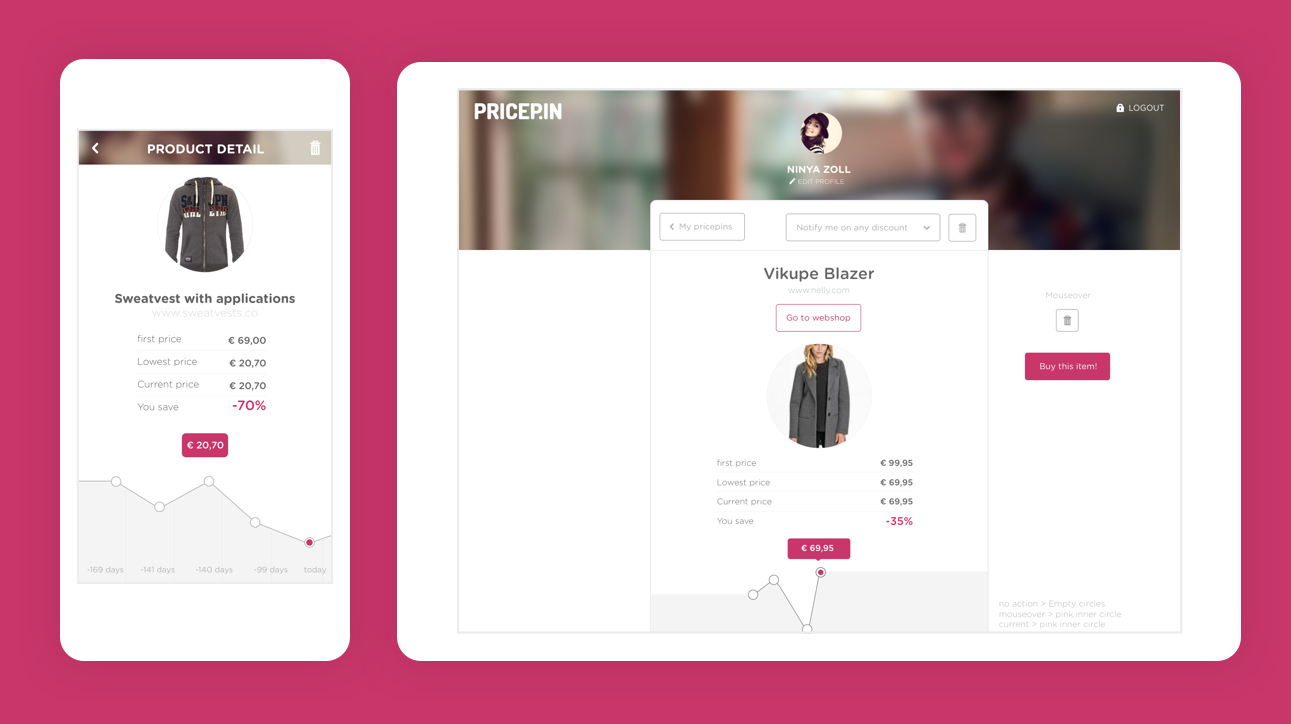 And then that happened..
We just had the official release, the number of users kept increasing and we received a lot of positive feedback. But due to new online security functionalities that were being added to several webshops, the bookmarklet we used was no longer supported. Remarks about Pricepin unable to pin products kept coming in.
We were forced to change our way of pinning products as soon as possible, by replacing the bookmarklet with browser extensions. We notice every day that browsers, webshops and software are constanly evolving. That is why we always have to be on top of the latest micro changes in order to keep our products up and running as good as possible.
I like the concept already! Definitely gonna give it whirl!
Reaction on Product Hunt
Conclusion
Setting up an own product takes a lot of effort and commitment from the whole team. But it is a lot of fun and great way of learning about how a new product is being adopted by more and more users.  Besides that it is a very effective way to give your network a big boost and get connected to the most interesting people and companies.
Visit the website Go to the Apple App Store Go to the Google Play store