Introduction
PME Legend, one of the market leaders when it comes to men's fashion in the Netherlands, is on the brink of entering the German market. To improve their online presence, PME Legend wants to couple this expansion with a merger of their website and webshop. This new webshop should serve as a single, strong and recognizable digital identity for all existing and new customers. A new market, a new product, and a new target audience.
Image
For a successful business to expand their target audience, a solid understanding of the product and identity are a must. At Unc Inc, we have helped crystalize this understanding in a series of intensive meetings, resulting in a complete and new design for the webshop.
The stuff of legends
PME Legend, affiliated with the fashion company Just Brands, was founded just over 15 years ago in America as 'Pall Mall'. In the Netherlands, the company was recently rebranded as 'PME Legend'. Despite the change of name, the rugged American cargo pilots with their iconic airplanes are still central in inspiring their collections.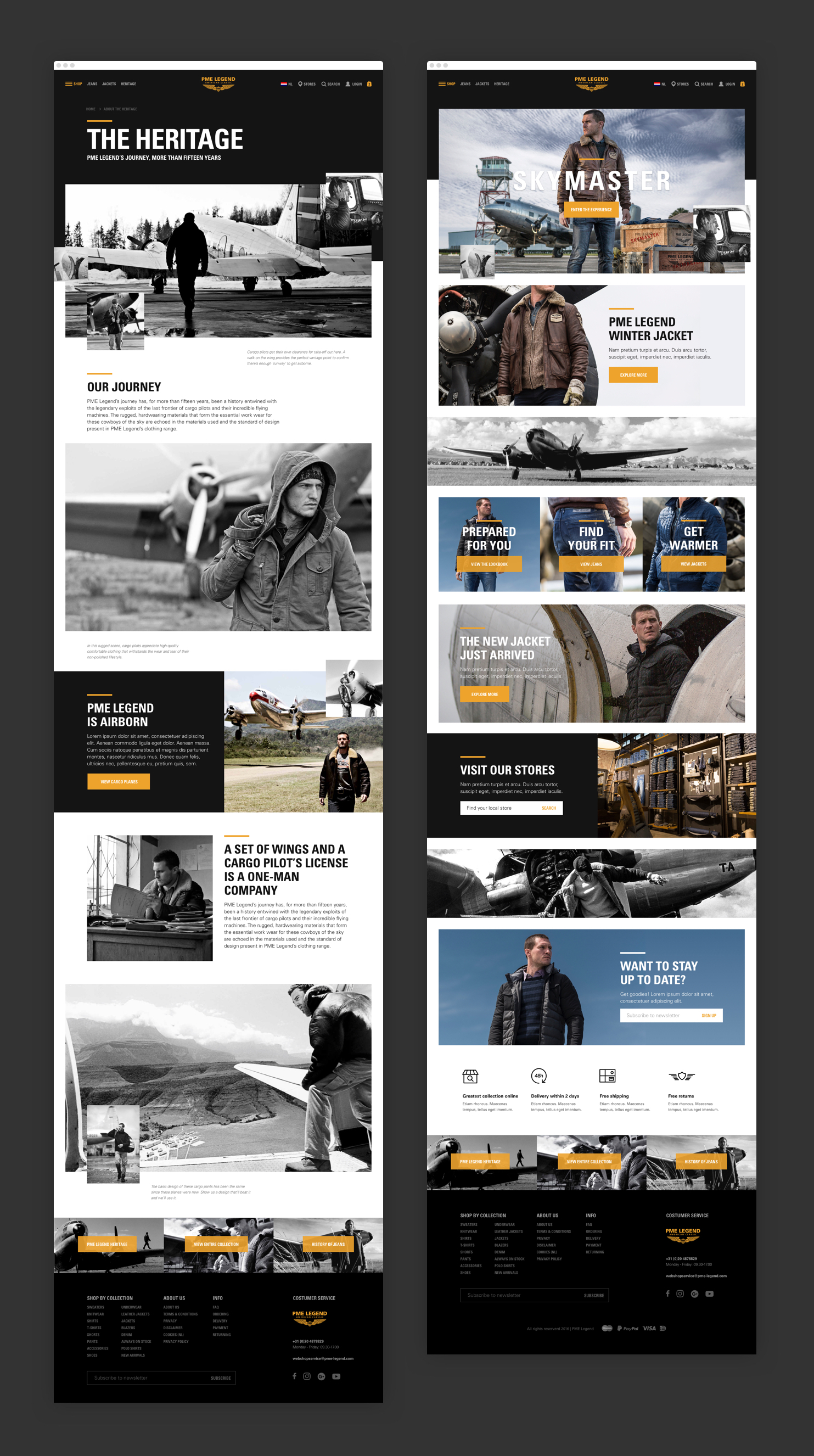 International differences
At Unc Inc we place the end user first when designing our products – who is going to be using the webshop and why? Because PME Legend wants to maintain an existing market while at the same time expanding into a new one, two separate target audiences must be taken into account.
To get better insight into the difference between these separate groups we make use of so-called persona's: archetypes that represent some key characteristics of the audience. The first persona is a Dutch male who is a regular customer at PME Legend and wants to be able to buy clothes directly and without any hassle. For this persona, the main goal is increasing retail conversion by improving and simplifying the user experience. 
The second persona is from Germany, and has never heard of PME Legend. Our aim here is to create awareness and to generate brand familiarity. In order to stimulate all the sense and offer the opportunity to try on the clothes, it is important to get this person into the physical stores first.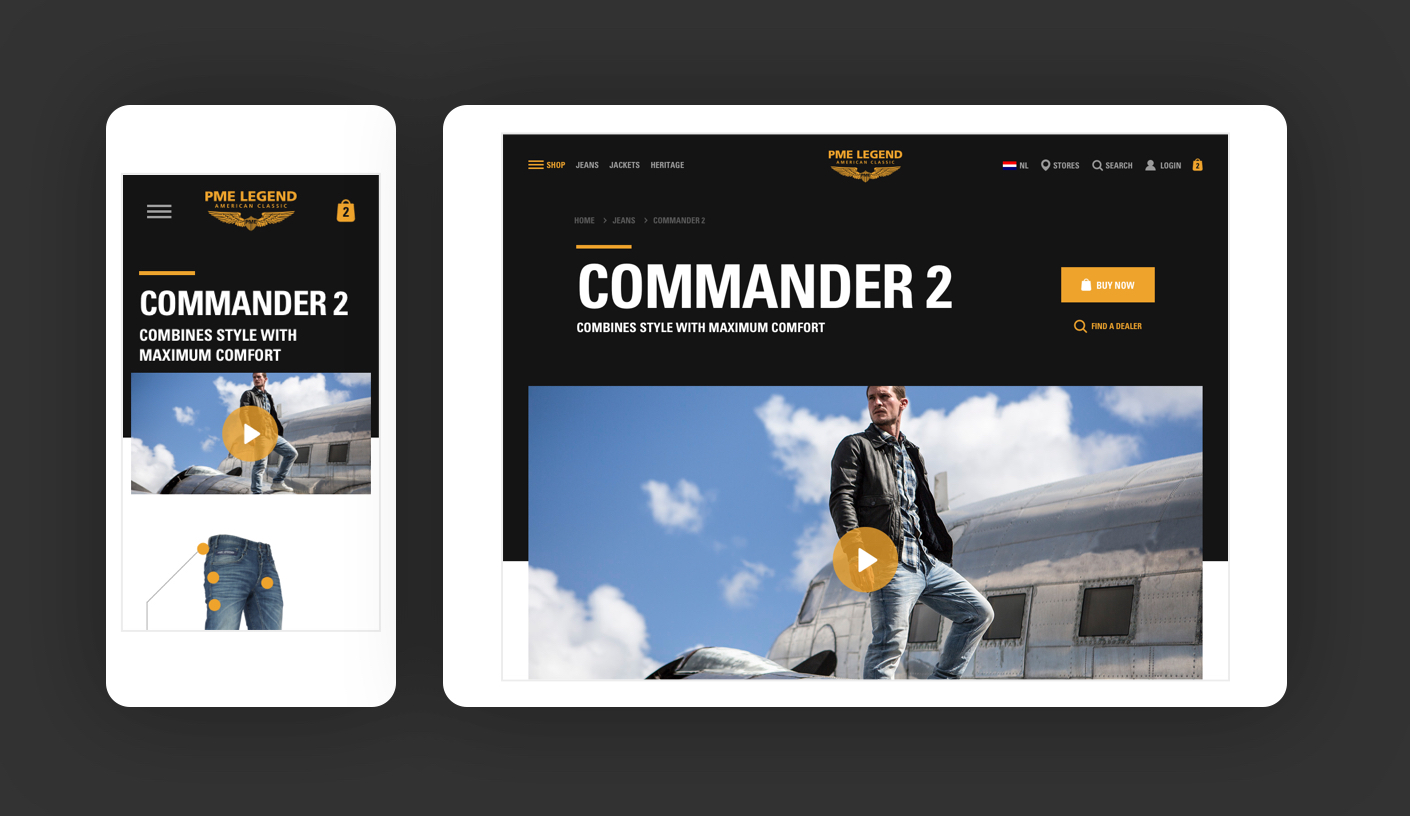 A flexible system
In order to meet both the requirements of the two target groups, and the wishes of PME Legend, it is essential that the webshop is accessible and flexible. These have been key considerations during the design.
For the acquainted customer, it has to be easy to directly access the desired products, while new customers should have the opportunity to first explore the collections. To provide customers with an experience that surpasses the digital, the nearest physical stores should also be shown. Of course, the webshop should be accessible in both German and in Dutch. 
For the content management team of PME Legend, it should be possible to easily edit campaigns and products according to current collections, and to share these changes as online (social) marketing.
Heritage equals brand identity
PME legend has a decade of heritage, with a strong brand identity stemming from the unique style of the look of a cargo pilot. On their current website however, the brand information is collected together on a few hard to find and clunky pages. We decided to split this information up, and scatter it throughout the website. In this way the brand identity surrounds the content and complements it. Instead of extensive copy texts we relied more on photography and short paragraphs - easy to read and digestible in one glance.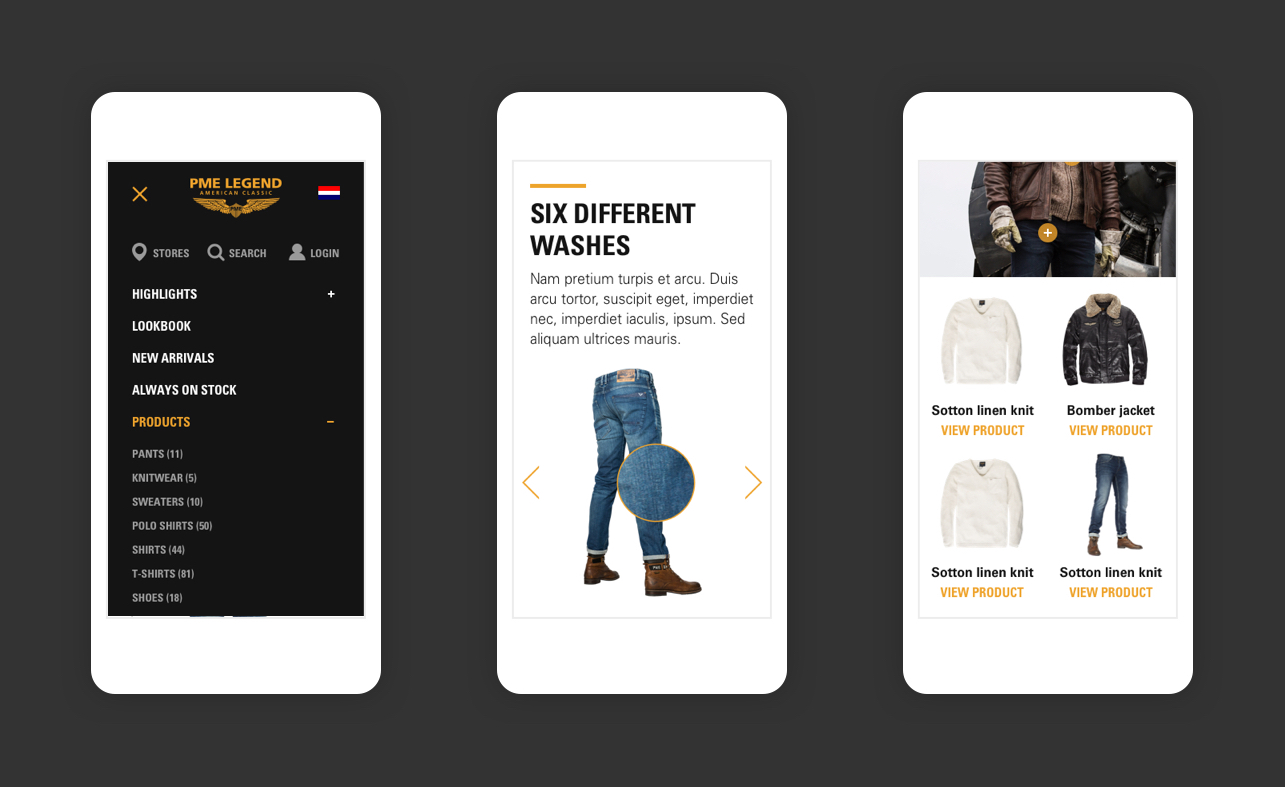 Fresh and familiar
PME Legend originally operated a website with a dark-colored theme and many shades of grey. Because the PME Legend products generally also have dark colors, they did not express well on this dark background. For e-commerce the most important thing is an attractive (read: balanced) presentation of the product up for sale.
However, switching from a dark to a completely white theme was not considered an option, as the recognizable style of the website is part of the brand identity. This left us with a challenge: How do we create a subtle transition between the old and the new, in a manner that both preserves the identity and allows the products to look appealing?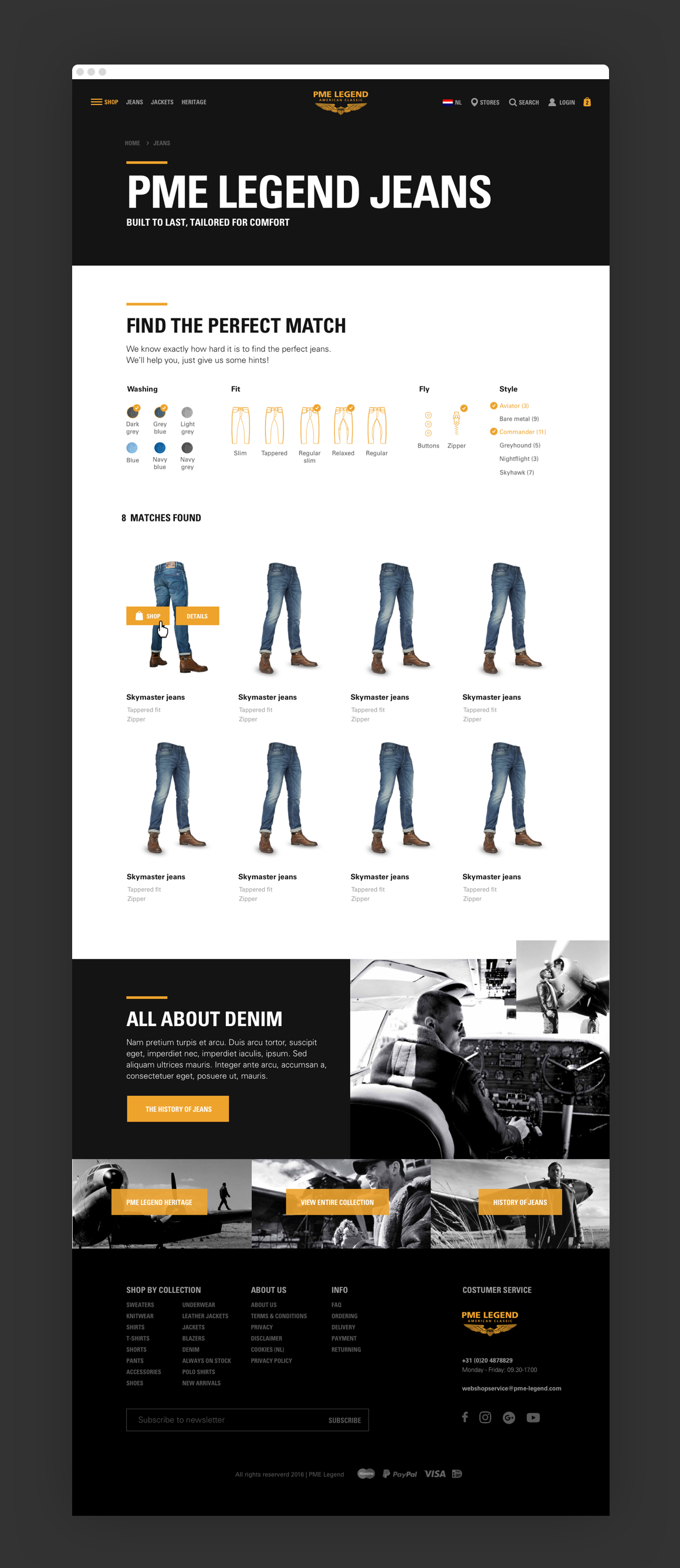 After several brainstorms, we settled for a single foundation of grey, black as standard color, and the addition of spacious white sections. The result is a strong and coherent visual approach which is brave enough to be fresh and dark enough to look familiar.
A committed cooperation
A new market, a new campaign and a new webshop. We're quite proud that we were able to successfully employ the expertise of our Unc Inc team to help realize the wishes of PME Legend. Our experience with e-commerse conversion, persona development and visual coherence coupled to a close collaboration with all parties led to a very satisfying trajectory that went beyond just design. We're involved in the development and launch, and will continue to give our support in the phases that follow.